The Global Leader in Gaming
IGT has leading competitive positions across the global lottery and gaming marketplace. The Company's resilient business model is characterized by robust recurring revenues and a balanced geographic and product mix. IGT's strong cash flows are supported by industry-leading investments in content and technological innovation that are complemented by disciplined financial management.
2016 Annual Report
If you are a holder of IGT securities and would like to request a hard copy of our 2016 Annual Report on Form 20-F free of charge, please click here
Stock Quote
$20.01
Change (%):
 - 0.01
 (0.00%)
Data as of: 08/22/17 4:02 p.m. ET
Stock Chart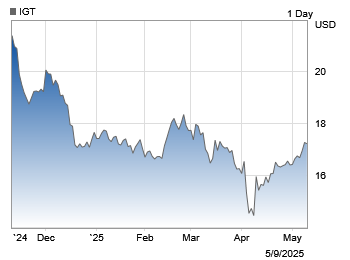 Corporate News
08/01/17
International Game Technology PLC Reports Second Quarter 2017 Results
- Net loss of $290 million includes $220 million of net foreign exchange loss; adjusted Net income of $31 million - Adjusted EBITDA of $424 million reflects strong lottery results and global gaming machine sales - Net debt of $6,999 million, ... Read More
---
07/26/17
IGT Announces New Term Loan Facility And Amendment To Multicurrency Revolving Credit Facilities
LONDON, July 26, 2017 /PRNewswire/ -- International Game Technology PLC (NYSE:IGT) ("IGT") today announced that it has entered into a €1,500 million term loan agreement which matures in 2023 and an amendment to its multicurrency revolving credit fa... Read More
---
View Corporate News
Data provided by Nasdaq. Minimum 15 minutes delayed.